When a fire breaks out, buildings have to be evacuated within minutes in order to protect lives. Buildings with large numbers of occupants, such as hotels, office blocks, shopping malls or universities, have special requirements regarding evacuation.The voice alarm system E100 sets a new standard for meeting this challenge. Its innovative safety functions allow an orderly and safe evacuation, even from multi-story buildings or buildings covering extensive areas and with large numbers of occupants. What's more, E100 already fulfills all requirements of the new standard EN 54-16*.
---
Application areas

General office applications
Leisure facilities
Night clubs
Shopping centers
Department stores
---
Benefits at a glance
Rapid, orderly evacuation – thanks to clear voice messages
Maximum investment security – thanks to state-of-the-art technology, high modularity and networkability, and EN 54-16 compliance
Substantial costs savings of up to 30% due to energy-efficient, high-performance components
* European standard EN 54-16 is mandated by law for all voice alarm systems with effect from 2011
---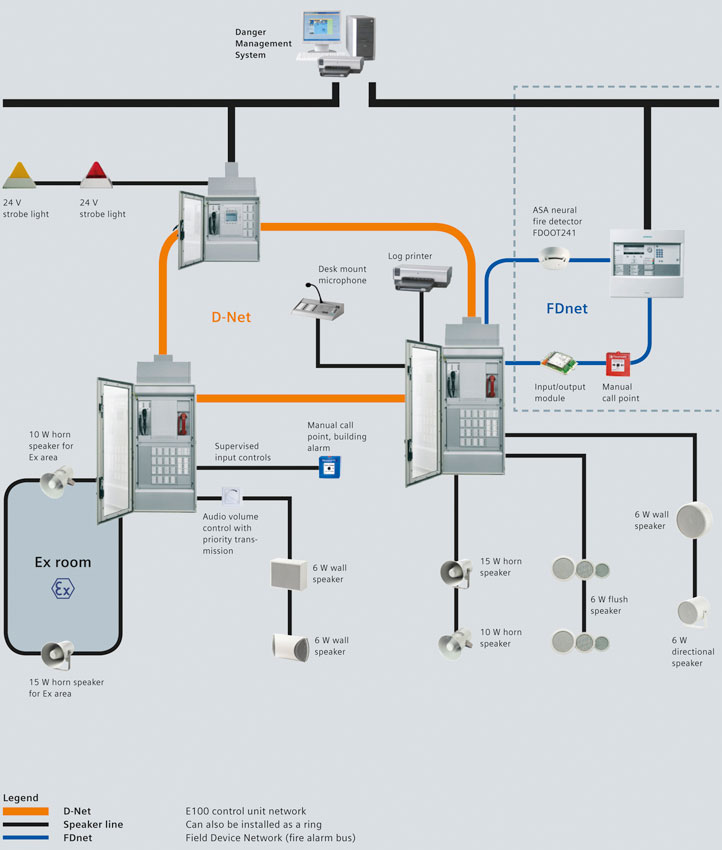 E100 is a life safety communication system designed to provide rapid evacuation from premises in a safe and orderly manner.
---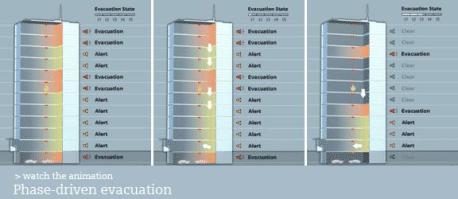 E100 allows automatic phased evacuation that's individually tailored to your building. This is based on E100's freely programmable control logic and digital signal processing, which permit the simultaneous transmission of different signals and announcements to different parts of the building. People in the immediate danger zone are instructed to leave the building first, following the signed escape routes. The adjacent zones are then gradually evacuated until all occupants from the endangered areas are safe. That prevents escape routes from becoming overcrowded, which – in combination with reassuring announcements – prevents panic.
---
Origin of fire:
The occupants most at risk are those near to the origin of the fire.
Evacuation message:
"A fire has been reported in this building. Please leave the building immediately."
Non critical areas:
Occupants not at immediate risk will block escape routes for those in immediate danger.
Alert message:
"A fire has been reported in this building. Please wait for further information."